Bonfire Night attacks on fire crews in Keighley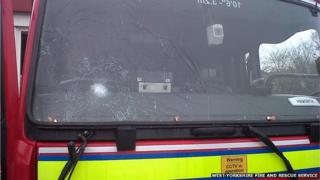 Firefighters were attacked by a gang of youths who barricaded a road in Keighley after starting a fire.
Up to 30 youths were blocking access to Belgrave Road when firefighters arrived - at the request of police - just before 22:00 GMT on Bonfire Night.
The engine was pelted with objects that broke the windscreen and forced the crew to withdraw.
It was one of a string of attacks, which included fireworks, stones and eggs being thrown at firefighters.
Crews were temporarily relocated to the nearby police station until tensions in the area dispersed. The attack caused £2,000 worth of damage to the engine.
Takeaway attack
Ian Bitcon, from West Yorkshire Fire Service, said: "We completely condemn these abhorrent actions which put our firefighters in jeopardy.
"Not only that but the Haworth engine had to be temporarily taken off the run on the fire service's busiest night of the year.
"We are currently working alongside police and will be providing our silent witness CCTV footage to aid their investigation."
The fire service was called to Highfield Lane at 20:48 GMT after reports of a fire but had to leave when fireworks were thrown at them by youths.
The same crew attended a fire in a takeaway shop in Belgrave Road at 21:23 GMT but were forced to leave when they were attacked with eggs.
Firefighters attending a blaze in a skip in the yard of Keighley Fire Station at 21:49 GMT were also assaulted, this time with stones.
West Yorkshire Police said it was working with the fire service to identify those involved in the disturbances.