Keighley Cougars website hacked to read 'I love you Isis'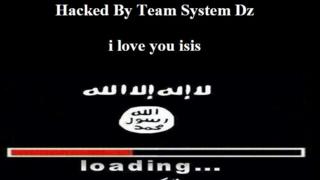 Counter-terrorism police are investigating the hacking of a West Yorkshire Rugby League club's website.
Keighley Cougars website was replaced on Sunday with a page featuring the message: "I love you isis".
The club's home page was replaced with a black screen with the words "Hacked By Team System DZ" at the top. The page was restored shortly after 09:15 GMT.
A spokesman for West Yorkshire police said they had received a number of calls about the hacking.
He said: "We are aware of this incident and have now passed it to our counter-terrorism unit.
"We will work with the club in relation to this and are making enquiries."
Earlier, the club tweeted: "The website is in the hands of IT and the police. It will be taken down shortly."
On Sunday, the club said: "Apologies, the website has been hacked. The developers are working on it. Will let you know when it's back up and running."
The hacked page also featured images of fighter jets and bloody images of people injured in fighting.
Posting on social media, one person claimed a host server had been hacked, leading to about 60 other websites featuring the same page.
Islamic State (IS), widely known as Isis, is a radical Islamist group that has seized large swathes of territory in eastern Syria and across northern and western Iraq.