Leeds Majestyk fire: Work on nightclub under way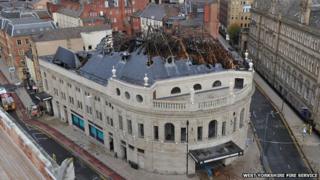 Work is under way at the former Majestyk nightclub in Leeds after it was badly damaged by a huge fire.
The blaze at the Grade II listed building in City Square, the home of the Majestic cinema in the 1920s, broke out on 30 September.
It took dozens of firefighters to tackle the blaze and a man was charged with arson last month.
Scaffolding has been put up so sections of the roof can be removed and debris cleared.
The roof partially collapsed but the building had been saved, West Yorkshire Fire & Rescue Service had said.
The owners of the nightclub said their priority was to protect the building before "assessing the true extent of the damage".
'Incredibly complex'
In a statement, Mark Finch, from Leeds-based property company Rushbond, said: "Following the fire and after the initial evaluation, our key priority is to protect the building before we start removing the roof and clearing the debris inside, which we expect to do in the coming months.
"Once this is complete we will be able to properly assess the true extent of the damage and provide a further update.
"This is an incredibly complex situation that involves extensive planning and management.
Mr Finch said the work would cause some disruption and apologised "for any inconvenience".
Stuart Jefferson, 32, of Broadlee Street, Leeds, denied starting the fire when he appeared before Leeds Magistrates' Court on 2 October.
He was mistakenly released by court security and was later found in Leeds city centre and returned to court, where he was remanded in custody.