Bradford museum displays field of fabric poppies to mark WW1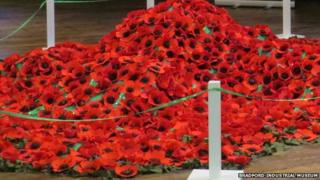 More than 1,000 fabric poppies have gone on show at Bradford Industrial Museum to mark the 100th anniversary of the start of World War One.
The flowers were hand-made by nine groups of older people from across the city.
They were then stitched together to form a five metre square sheet to represent a field.
The finished work will tour various venues across Bradford over the next four years.
As well as making the flowers, the groups also learnt about the history of the Bradford Pals and gathered material about their own families' experiences of the war.
'Poignant tribute'
The Pals were workmates who enlisted together to form the 16th and 18th battalions of the West Yorkshire Regiment.
Hundreds of them died in 1916 during the first day of the Battle of the Somme.
Labour councillor Susan Hinchcliffe, Bradford Council's head of employment, skills and culture, said: "This piece is both a striking and poignant tribute to those who lost their lives or were injured in the First World War.
"The project also has the added value of bringing people together to share their memories."