Compensation paid after Catholic priests abuse claims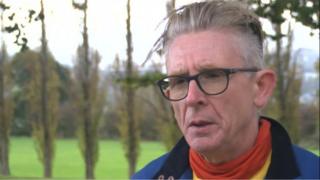 Compensation has been paid to 11 former trainee priests who claim they were sexually abused at St Peter Claver College in Mirfield, West Yorkshire.
The Verona Fathers, a Roman Catholic mission, has paid the men a combined total of £120,000 over the allegations that stem from the 1960s and '70s.
Bede Mullen, one of the victims, said he spent years believing he was the only boy who was abused.
The Verona Fathers said the abuse had "not been proven".
Mr Mullen said: "We all slept in a large dormitory and people were called out after lights out to visit the priests in their room, very often on the pretext of saying prayers together.
"There were other occasions where one of the priests would come into the shower with you, ostensibly to hurry you up."
'Wanted it to stop'
Another victim, Anthony Smith, said he was abused by Father John Pinkman, now dead, at the college recreation hut.
"I remember him slobbering all over me and touching me," he said. "I knew it was sexual - I just froze and wanted it to stop.
"It was down at the back of the building where there was nobody about and it was dark.
"I reported what had happened but nothing was done."
West Yorkshire Police investigated the reports of historical sex abuse, but as the two named suspects were dead, the investigation could go no further.
The alleged abuser of one of the other former trainee priests is still alive, but is in Italy and cannot be extradited because of ill health.
Martin Devenish, of the Verona Fathers, expressed "great sadness and regret" at the allegations.
"We know that anyone subjected to abusive behaviour will experience suffering and we are dismayed to think that such suffering may have been caused to youngsters who attended our junior seminary," he said.
A spokeswoman for the order added: "Given the passage of almost half a century, we will never know the truth of what happened at St Peter's."
The Verona Fathers, now known as the Comboni Missionaries, no longer operates seminaries in the UK and its activities largely consist of appealing for funds for communities in some of the poorest parts of the world.