M62 hen party crash lorry driver was on 'cruise control'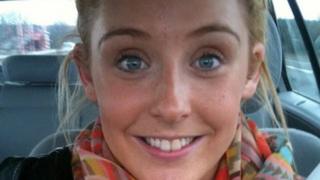 A lorry driver accused of causing the death of a woman on a hen party when he crashed into a coach had his vehicle in cruise control, a court heard.
Bethany Jones, 18, died and several people were injured in the crash on the M62, near Pontefract, on 26 April 2013.
Kevin Ollerhead, 43, denies causing death by dangerous driving.
Leeds Crown Court heard trainee nurse Miss Jones was in a group of 21 women being driven from South Elmsall to a celebration in Liverpool.
The jury of eight women and four men were told the 24-seater coach suffered mechanical problems and came to a "near standstill" on the motorway.
The coach driver, 64-year-old James Johnson of Whytecote End, Bradford, pleaded guilty to causing her death by dangerous driving at a previous court hearing.
'Shunted into barrier'
Prosecutor Bryan Cox QC claimed Mr Ollerhead, of Lincoln Crescent, St Helens was also to blame for Miss Jones's death.
He said Mr Ollerhead was driving the lorry on a cruise control set to 52mph.
He drove straight into the back of the coach, shunting it "some 45 metres into the distance and into a barrier", the jury learned.
The crash left 11 women seriously injured, among them the bride-to-be, Stefanie Firth.
The court heard that soon after the minibus left South Elmsall, the passengers became aware of signs of mechanical failure, including a smell of burning.
The women asked Mr Johnson to stop the vehicle, which had a badly burnt-out clutch.
He pulled over and made a brief examination but said he could not find a problem and so continued the journey.
'Failed to act'
The coach gradually reduced speed to a "snail's pace" until it was travelling at just 5.5mph in the nearside lane of the M62, just after junction 32, near Pontefract.
Mr Cox said the coach posed a danger to other road users and passengers recalled other vehicles sounding their horns.
He said: "A number of vehicles avoided it by steering into the middle lane. Kevin Ollerhead did not. He was driving his DAF on its limiter at a constant speed of 52mph and he drove the truck straight into the rear of the coach."
"For a period of 6.6 seconds when the coach was fully in view the defendant simply failed to act to avoid a collision," he said.
The coach was left on its side across the exit slip road, the jury was told.
The trial continues.