Bradford Norcroft Street fire was started by accident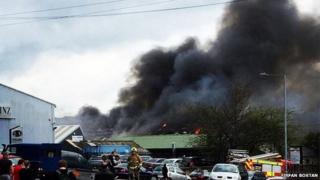 A huge fire in Bradford was started accidentally by welders in an industrial unit, it has emerged.
The fire was confined to a repairs garage at Norcroft Street where crews from West Yorkshire Fire Service managed to top it spreading.
A specialist fire investigator concluded the fire was accidental.
Seventy firefighters tackled the blaze at its peak on Thursday but only one fire engine remained at the scene on Friday.