Leeds nurse 'didn't care' if patient died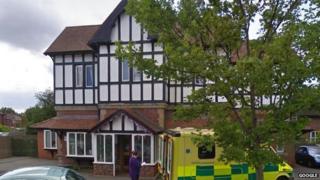 A nurse said she "didn't care" if a patient died, a Nursing and Midwifery Council (NMC) panel has heard.
Beatrice McDowall-Phillips made the comment when working at the Ashlands Care Home, Methley, Leeds, which cares for about 40 dementia sufferers.
The NMC fitness to practise hearing was also told that she swore at a second resident at the home.
Finding her conduct to have been "far below the standard expected", the NMC imposed conditions on her future work.
'Starving herself anyway'
These include working under supervision and regular meetings with her line manager for the next 12 months.
The panel heard that Mrs McDowall-Phillips said: "She won't take her tablets. I don't care if she dies. If she dies, she dies," or words to that effect.
The patient in question was a very ill woman who was confined to her bed.
The panel heard that Mrs McDowall-Phillips also said: "She's starving herself anyway and she's going to be dead soon," or words to that effect.
A witness giving evidence to the NMC said the patient had probably overheard because she closed her eyes and looked "really upset".
The panel said it recognised Mrs McDowall-Phillips was in her first nursing role and that she had sworn at the second patient in a "kneejerk" response to some "very offensive remarks" about her race.