Daniel Thrower jailed for spinal injury crash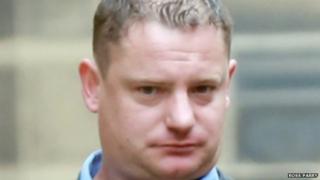 A man who caused a head-on crash by driving on the wrong side of the road, paralysing a two-year-old boy for life, has been jailed for three years.
Daniel Thrower, 34, from Doncaster, caused the "devastating" crash on Hemsworth bypass in West Yorkshire on 8 March, Leeds Crown Court heard.
The smash damaged the spine of John James Michalowski, who will never walk.
Thrower, who admitted causing serious injury by dangerous driving, had no licence or insurance, the court heard.
'Not fair'
John James' father Igor and his two sisters, aged nine and three, were all injured in the crash.
Judge Geoffrey Marson QC said the accident had "devastated a little boy and his family".
The judge said it was "not in the power of the law to give a greater sentence" as Thrower, of Shakespeare Avenue, had pleaded guilty.
The judge added: "The psychological effect [on the family] was incalculable."
Thrower was banned from driving for five years and told he must take an extended test.
Speaking outside the court, Igor Michalowski said: "I don't think it's ever going to be enough sentence for him for what he's done.
"It's not fair compared with what we have to go through now."
Lynne Clifford, John James' aunt, said: "He should never, ever, be given a driving licence again, never.
"We know it hasn't stopped him anyway, but he should never be allowed a driving licence."