Children's charity calls for trafficking victim database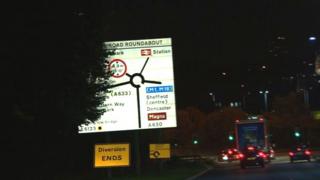 A national database should be set up to keep track of vulnerable youngsters at risk of trafficking and sexual abuse, a children's charity has said.
The call comes as two girls from Yorkshire told BBC's Inside Out how they were trafficked around England by criminal gangs.
The Children's Society said a database could reduce the risk of exploitation.
Sam Royston, from the charity, also called for better use of trafficking legislation to secure prosecutions.
It comes after the Rotherham child abuse report which said children as young as 11 were trafficked to other cities.
Mr Royston, said: "If we created a national database then we'd be able to make sure that every missing person can be recorded.
"If a child is picked up in another area of the country, they are able to be identified as missing and that could bring down the risk of that child being exploited."
Jenny Pearce OBE, professor of young people and public policy at the University of Bedfordshire, said problems arose when trafficking crossed police and council borders.
"In many places information sharing is woefully inadequate," she said.
"You might have situations where staff just don't realise it's important to check whether the young person they are working with is known to the missing [person's] service, or the sexual health service."
'All over the country'
Speaking to BBC's Inside Out, Jane, whose name has been changed to protect her identity, said she was abused by men from all over the country.
Another girl, "Clare", said men from as far away as London would call her to arrange a meeting.
Jane, who spent time in a children's home, was 14 when the abuse started in 2007 and considered it "normal".
She said she would be taken in a car to other cities. Other times groups of men from across Yorkshire and Greater Manchester would come to a hotel to meet her.
"As soon as you'd get in the cars they'd start driving out of Bradford so you had to do what they wanted you to do," she said.
"They would have alcohol and drugs and get you in a state where you didn't really know what's going on."
'Arranging meetings'
Clare, whose name has also been changed, was trafficked around South and West Yorkshire from her home in Rotherham from about 2004.
The abuse started when she was 14 or 15 and ended in 2008.
She said her phone number was passed around to men who called from Leeds, Birmingham, Manchester and London, wanting to arrange a meeting with her.
"I didn't know their names because there were so many of them."
No prosecutions have been brought against the abusers.
Mr Royston said better use of human trafficking legislation could also help to bring about convictions.
He said: "A child can never consent to being trafficked, you don't need to take into account their story or their motivation.
"You just have to identify that this child has been trafficked."
The story is covered on Inside Out. The programme is on BBC One, on Monday at 19:30 BST.