'Poo powered' Bradford sewage works opens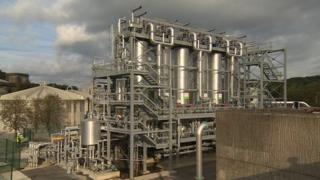 A £34m sewage works powered by gas produced from human waste has opened in Esholt, Bradford.
Yorkshire Water's site creates enough energy to power itself by using gas from the 30,000 tonnes of sludge it processes annually.
The site generates enough electricity to power about 7,000 homes a year and the company has agreed to export any surplus power to the National Grid.
Work on the 750-acre site began in 2012.
The site breaks down waste into biogas, which is then burnt to produce heat and electricity.
Ben Roache, head of energy and recycling at Yorkshire Water, said: "The biogas is rich in methane and we convert that methane in the gas through a combined heat and power engine. The engine uses that gas as its fuel.
"It creates huge amounts of electricity. On this site there will be enough for 7,000 homes or the equivalent of.
"But, also we will be reusing that heat in the process as well to make sure it is really energy efficient.
"We've committed to customers over the next five years to continue to keep bills as low as possible but also to act responsibly with the environment and this investment on this state-of-the-art renewable energy facility will do both those things."
The process will leave about 62,000 tonnes of fertiliser, which will be available to farmers in the area for a small charge.
Lord Mayor of Bradford Mike Gibbons said: "I'm delighted that the Esholt site is now the first self-powered sewage plant in Yorkshire and is leading the way in the industry with this new technology."