Ferrybridge builders end toilet row strike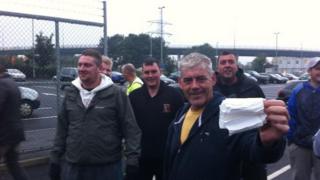 Builders at a £300m multi-fuel facility near a West Yorkshire power station have ended a strike sparked by a row over toilets.
Union members staged an unofficial walk out at Ferrybridge, near Castleford, amid claims facilities were dirty, blocked and without toilet paper.
The Unite union said the issue was raised with management at Hitachi Zosen Inova a year ago but nothing was done.
The company has now agreed to provide more toilets and a cleaner.
It said staff will return to work on Wednesday and wages will not be docked.
Clean hands
The wildcat strike was called last night over claims there were eight toilets for 650 construction workers.
About 100 workers picketed the gates earlier demanding more facilities and cleaning staff.
Union member Peter Beaumont said: "When you've got 100 men who need to clean their hands before dinner it's quite an important thing.
"We needed to withdraw our labour."
'Pulled their socks up'
Workers met managers and were promised more toilets and full-time cleaners.
Senior steward Tony Duckitt said: "All of us feel it's a fair deal. They've pulled their socks up. It's going to be spick and span.
"There's people working on these toilets all day and more coming on site as well. They've got their act together."
The new facility, Multifuel Energy Ltd, is a joint venture between a waste management company and SSE, which owns the nearby Ferrybridge Power Station.