Leeds children's heart unit report delay 'a disgrace'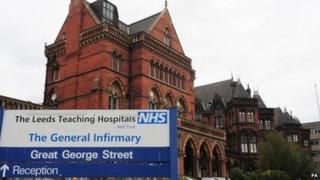 A delay in publishing a report linked to the suspension of children's heart surgery in Leeds has been branded "a disgrace" by a city MP.
NHS England was due to produce a report earlier this year detailing concerns raised by clinicians about treatment at the Leeds General Infirmary unit.
Greg Mulholland, MP for north-west Leeds, said the delayed release of the findings was "not acceptable".
NHS England said it had encountered "complex issues" with the report.
Operations at the hospital's unit were suspended on 28 March 2013 when NHS England raised concerns about data on mortality rates.
The suspension came a day after a decision to stop children's heart surgery at the hospital - as part of an England-wide reorganisation of services - was quashed in the High Court.
Operations were allowed to resume at the unit on 10 April last year, after an investigation revealed the data was flawed.
'Reflects badly'
NHS England commissioned three reports as part of a review into the unit, the first and second of which have been published.
A third, which investigated claims made by doctors at another hospital, is yet to be made public.
Mr Mulholland said: "This reflects very badly on NHS England. They still haven't produced the third report into that suspension, which never should have happened, and that really is a disgrace.
"It's not acceptable. It's taken a year and a half and we still haven't seen this report. "
BBC Look North submitted three Freedom of Information requests to NHS England requesting when the report would be published.
The first response said it anticipated publishing it in May. Subsequent responses indicated further delays.
Dr Mike Bewick, for NHS England, said: "We are dealing with a complex issue across two trusts. After the report was written detailed comments were received from both trusts which have now been addressed.
"We are now about to contact all families who have contributed to the report as well as partner organisations prior to publication."
Last week a new consultation started into the future of children's heart surgery in England.
A similar review in 2013 was subsequently dismissed by the government as flawed.