Bradford business park may create 1,000 jobs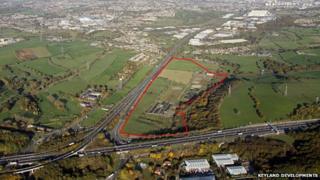 Up to 1,000 jobs may be created if plans for a business park near Bradford are approved, its developer says.
Yorkshire Water's sister firm, Keyland Developments, aims to transform the 57-acre site at North Bierley.
The company is set to submit a planning application to develop the former water treatment works.
The site, near the M62 and M606 motorways, has been unused since 2010 but the plans provoked concerns about the impact on an already busy area.
Keyland said their plans will address a "chronic" shortage of new industrial accommodation in the region, which will include creating 500,000 sq ft of business space.
Mike Dove, from consultants Dove Haigh Phillips, said: "This site has such multi-level appeal due to the proposed combination of unit sizes.
"With such a strong location on the M62 corridor, this scheme will inevitably draw in regional investment which is extremely positive news."
'Massive danger'
Keyland said it hoped the proposals could bring back into use "one of the most strategically located and extensive sites within the region."
Councillor David Robinson said he had concerns about proposed access to the site, which is near the busy Chain Bar roundabout.
He told BBC Radio Leeds the area is already crowded at peak times and access would be within 50 yards of a primary school.
Resident Wendy Hamilton said proposed access would be a "massive danger" to children.
"Bradford needs jobs but these jobs aren't guaranteed," she said. "The site is green belt, why can't it be used for community use? Put a sports centre on there."