E-cigarette batteries start two fires Yorkshire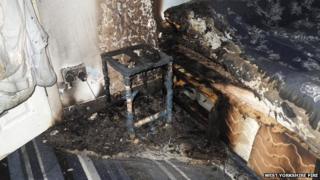 Two e-cigarette batteries "exploded" and started fires in two West Yorkshire homes in just 24 hours.
West Yorkshire Fire Service has warned it is now being called out to e-cigarette fires more than once a month.
In an incident in Bradford, a battery exploded and "shot across the room", coming to rest at the foot of a wardrobe, which caught fire.
And a couple in Girlington only realised their bedroom was on fire when the smoke alarm sounded.
There have been 13 e-cigarette fires in West Yorkshire in the past 12 months.
'Burning battery'
While only 0.25% of call-outs are related to e-cigarettes, the fire service has warned of a growing problem.
E-cigarette usage in the region has increased more than 300% between 2012 and 2013.
Fire Investigator Sean Fearon said: "The fire service is very concerned with the increased number of fires involving e-cigarette batteries whilst on charge.
"When the batteries fail they can explode. This generally results in burning battery materials being ejected into a room.
"Although they only burn for a short time, if they land on combustible materials like bedding or newspaper it will cause a fire to develop."
Mr Fearon also warned that using an incorrect charger could start a fire, although the Girlington battery exploded despite being plugged into the one supplied with the e-cigarette.