West Yorkshire childhood shop thief seeks forgiveness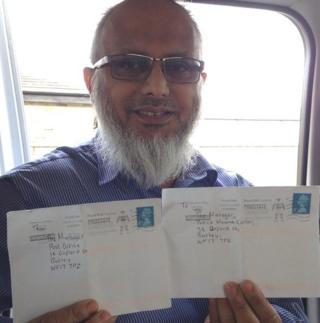 A shop owner has received £30 and two letters asking for forgiveness from an anonymous person who stole from his stores as a child.
Ismail Patel who runs a post office and a corner shop in Batley, West Yorkshire, said he forgave the thief.
The printed notes said: "I am writing to apologise for sometimes stealing from your shop when I was a kid."
Mr Patel described the writer's action as "commendable" and said he would donate the money to charity.
"He's definitely forgiven," said Mr Patel.
"I've been in business for 20 years at Mount Pleasant Post Office now and this is the first time I have received a letter like this.
"I was quite touched."
The letter addressed to the post office contained a £10 note and one delivered to the corner shop had £20 in it.
Mr Patel said the handwriting on the envelopes appeared to be the same.
He said he did not know how long ago the thefts took place and had no idea of the identity of the letter writer.