World War One forgotten names added to Leeds memorial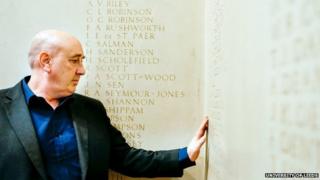 The names of 25 soldiers who fought in World War One have been added to a war memorial at the University of Leeds.
Douglas Knowles Day, Cyril Douglas McCourt, Alexander George Rosamond and Charles Reginald Outram were among the 25 whose names were missing from the existing 328-name memorial.
Their names were uncovered by researcher David Stowe, who was working on a legacy project at the university.
He said it remained "a mystery" as to why their names were omitted.
All 25 men had connections to the university, many of whom had studied there.
Mr Stowe said: "It remains a mystery why these names were not included on the original roll of honour, but the stories that have unfolded are remarkable.
"They all served in the Great War, and whilst not all deaths were the result of action or active service, they are no less tragic following accounts of such bravery and courage.
"It's been both fascinating and a privilege to learn more about these men."
Their names have now been added to a specially commissioned memorial, located at the university's Brotherton Library inside the Parkinson Building.
Sir Alan Langlands, vice-chancellor of the University of Leeds, said: "Rededicating the roll of honour is a fitting way of commemorating these men, the centenary of the First World War and all those who lost their lives."
The memorial was originally installed in November 1951 when the Parkinson Building opened.