Leeds Rhinos fans welcome home Challenge Cup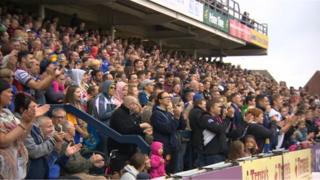 About 7,000 Leeds Rhinos fans have gathered in the city to celebrate the club's first Challenge Cup win in 15 years.
A party was held at Headingley Carnegie Stadium to mark the cup's return and welcome the team home.
The Rhinos beat Castleford by 13 points in the all-Yorkshire final at Wembley on Saturday.
The Lord Mayor congratulated the club and said winning the cup highlighted a "landmark year for sport in Leeds".
Player Jamie Jones-Buchanan said winning the trophy had not "sunk in yet".
"I think it will keep sinking in for the next 10, 15, 20 years when you appreciate how much it means to this [club].
"It also means a lot to our supporters. With a turnout we've had today, it's been fantastic."
Lord Mayor of Leeds David Congreve congratulated the club on their victory and said the players "really did us proud".
"On behalf of the city, I'd like to offer them my congratulations and thanks for giving us yet another memorable highlight in what really has been a landmark year for sport in Leeds."
The free event included music from local band The Gonzos and dance performances from community groups.
A homecoming event is also taking place in Castleford.
The Tigers took part in a lap of honour at The Mend-A-Hose Jungle Stadium before attending a reception at the Civic Centre.
Michelle Cooper, media and marketing manager for Castleford Tigers, said: "Most clubs only celebrate a victory at Wembley but we feel it's appropriate to reward our fans regardless of the outcome."