New Crofton co-operative colliery planned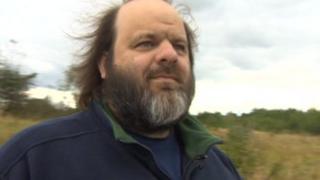 A co-operative is planning to open a £13m new coal mine in West Yorkshire that could employ about 60 miners.
The New Crofton Co-operative Colliery is planning a drift mine in fields at Crofton, near Wakefield.
Planning permission has been granted at the site expected to produce 200,000 tons of coal annually.
The site was originally earmarked for open cast mining by British Coal in the 1980s, according to Jonathan Clarke the co-operative's director.
Mr Clarke said it would be a shallow drift mine about 500 ft (150m) deep owned and run by its members.
He said bore-holes in the site had established "exactly where the coal is and the geology".
A drift mine accesses underground workings via tunnels that slope down on a gentle incline, rather than the vertical shaft of a deep mine.
The new mine would not therefore have any large winding apparatus on the surface.
'Indigenous coal mines'
Mr Clarke said finance for the venture would be raised against the value of coal below the ground - estimated to be about £300m.
He described the mine as being a "tiny little fish in a very big pond" but is convinced "indigenous coal mines" are a viable alternative to imported coal.
For comparison, he said Kellingley Colliery in North Yorkshire, scheduled to close next year with the loss of 700 jobs, produced about 2m tons of coal a year.
The co-operative's website states there is a continuing need for coal from Yorkshire coal-fired power stations at Ferrybridge, Eggborough and Drax.
It is hoped the new mine, adjacent to the main Wakefield to Doncaster railway line, will be in production by the end of 2015.
The co-operative has pledged to give £10m of funds to the local community over the mine's working life of about 17 years.
Prior to the 1984 miners' strike there were 56 collieries across Yorkshire but only two, including Kellingley, remain.