Funeral for murdered Bradford student Anowar Tagabo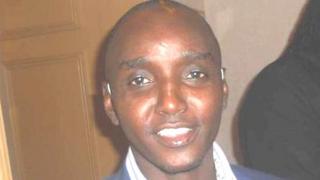 The funeral of a Bradford University student who died after being attacked on a night out has taken place.
Anowar Tagabo, 25, who was studying peace and development, was on a night out in Sheffield city centre when he was attacked on 25 May.
Nathan Tomlinson, 23, of Haslam Crescent, Lowedges, has been charged with manslaughter. He is due in court on 25 September.
Mr Tagabo's service was held at Lincoln Green Mosque in Leeds earlier.
Hundreds of people, many of whom were from the Sudanese community, attended his funeral.
'We're all heart-broken'
Bakheed Modeem, Mr Tagabo's cousin, described him as a "very gentle, good young man who... never wanted any trouble.
"It's very sad because we're originally from the Darfur region of Sudan, which is a war zone.
"He chose to study peace and development because he wanted to bring the peace back home and do something for his community.
"So for something like this to happen to him - we're all heartbroken."
Another relative, Mansoor Kitir, said his cousin's death had been "absolutely tragic".
"We can't turn the clock back so we have to accept what's happened," he said.
Earlier this week, South Yorkshire Police issued an appeal for any taxi drivers who may have witnessed the attack to come forward.
Officers believe at least two taxis were in Carver Street when Mr Tagabo was attacked.