Sophie the cat found after five years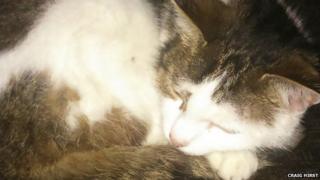 A cat has been reunited with its owners having been found more than five years after it first went missing.
Sophie disappeared in June 2009 in Morley, near Leeds, and was found in Beeston more than 3 miles (5km) away.
Craig Hirst, who owns Sophie, said: "It was a shock, we thought we'd never see her again."
Sophie was reunited with Mr Hirst by the Cat Action Trust as she had been microchipped before her disappearance.
She went missing while Mr Hirst was on holiday and the cat was being looked after by a family member.
At the time, Mr Hirst put posters up trying to trace the animal and contacted the microchipping company but nothing more was heard of the family pet.
Five years later he got a call from the Cat Action Trust in Leeds. The voluntary trust helps care for and rehome feral and stray cats.
"I told her Sophie's details and the caller said 'I think I've got your cat'", Mr Hirst said, adding: "I knew she wasn't dead".
Sophie's microchip had allowed her original owners to be traced.
Her whereabouts over the last five years are still a mystery but she has quickly settled back into her home and is uninjured, said Mr Hirst.
The cat has also been reunited with her kittens who were already living with the family.