Ferrybridge power station repair workers move in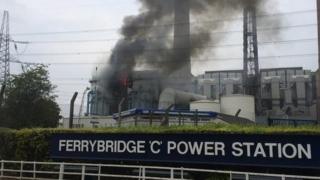 Workers have begun assessing the damage at Ferrybridge C power station in West Yorkshire after a massive fire.
Large cranes were set to move in to help engineers access the damaged Units 3 and 4 of the site.
The fire, which broke out last Thursday, caused the partial collapse of a tower on the site but no-one was injured.
External cladding will be pulled from the affected structure on Wednesday, energy company SSE said.
100ft flames
An SSE spokesman said: "Work has begun to fully assess the damage caused, and to examine the different options for repair.
"The assessment process - which is likely to be lengthy - will take place in stages.
"The first stage will work to gain access to the affected structure and to remove external cladding. This will enable specialist engineers to fully assess the damage caused."
At the fire's height, about 75 firefighters were brought in to tackle the 100ft (30m) high flames.
Firefighters finally left the site on Monday, after four days tackling the blaze.
Group manager Martin Langan, of West Yorkshire Fire and Rescue Service, said: "Over the course of the weekend we maintained a scaled down presence at the site with a crew who monitored the building for signs of fire, as well as checking the temperature of the building with thermal imaging cameras,"
SSE said Unit 3 would not be operational until at least 1 November and Unit 4, where the fire started, would be out of action until 4 March at the earliest.