Leeds' Bridgewater Place wind screen plans unveiled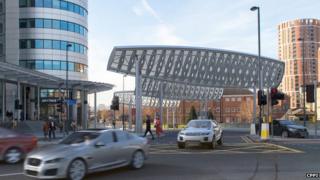 Plans have been unveiled for huge screens to block high winds around Yorkshire's tallest building.
Streets near to Bridgewater Place in Leeds have been known for high winds since it was built in 2007.
The proposals submitted to Leeds City Council include sail-like structures across Water Lane as well as vertical screens and canopies.
Dr Edward Slaney was killed when a lorry blew over in 2011, with a coroner blaming his death on high winds.
The proposals have been developed by Chetwoods Architects and Buro Happold on behalf of building owner CPPI.
Nick Sinfield, from CPPI, said: "Following our successful public consultation in February, we received some really constructive and positive feedback from the public.
"CPPI's design team has since been working hard to finalise and refine the plans. A scheme of this nature has required a multitude of surveys and testing to ensure it can be incorporated within the many site constraints."
The plans would see large screens and baffle boards to deflect the wind - up to 50ft (17m) high and 66ft (20m) long - built near the building and above the road.
Dr Slaney, 35, from Sowerby Bridge, West Yorkshire, was walking on a bridge over the River Aire in Neville Street when the lorry toppled over on to him on 10 March 2011.
Roads are currently closed to all users when gusts reach about 45mph, in line with the coroner's suggestion.