Ferrybridge power station: Fire crews leave site after four days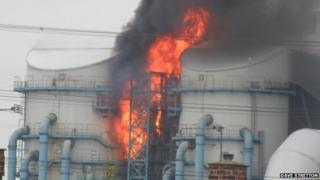 Firefighters have left Ferrybridge C power station near Castleford, West Yorkshire after four days battling a blaze at the site.
An investigation is ongoing after the fire, which broke out on Thursday, caused the partial collapse of a tower.
All fire service personnel left the site at about 09:30 BST, West Yorkshire Fire and Rescue Service said.
At its height, some 75 firefighters tackled the 100ft (30m) high flames.
The blaze was serious enough to put two 490MW generating units out of action for some months, operator SSE said.
A spokesman for SSE said Unit 3 would not be operational until at least 1 November and Unit 4, where the fire started, would be out of action until 4 March at the earliest.
National Grid said the station was on "summer shutdown" and had not been generating electricity.
Ferrybridge C is situated on the River Aire and is the third coal-fired power station to be built on the site since 1924.