James Leslie guilty of trying to kill PC Suzanne Hudson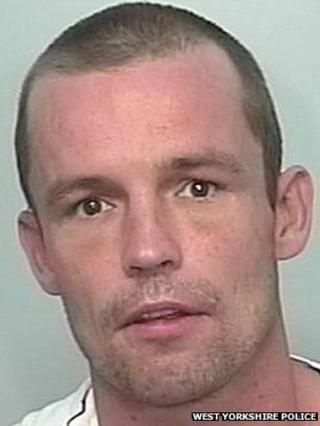 A man who shot a police officer on his doorstep and laughed while cycling off has been convicted of attempted murder.
James Leslie, 38, shot PC Suzanne Hudson through his front door as she and PC Richard Whiteley made routine inquiries in Leeds last December.
She needed emergency surgery on arteries in her neck and her right hand was shredded by shotgun pellets.
Leslie, of Cardigan Road, Headingley, was convicted following a trial at Leeds Crown Court.
As she lay seriously injured on the floor, with PC Whiteley desperately radioing for back-up, Leslie goaded the pair of officers.
Badly injured colleague
PC Whiteley told the jury: "He said 'do you want some more.'
"I thought I was going to die. My life flashed in front of my eyes.
"I thought Suzie was as well. I thought, he has used it once, he is going to use it again."
Richard Wright QC, prosecuting, said: "It is simply a matter of luck that the defendant did not kill PC Hudson."
The court heard PC Whiteley grabbed his badly injured colleague and dragged her away from the flat and onto the main road.
Brandished the weapon
PC Hudson, who is originally from Nelson, Lancashire, was on only her sixth frontline shift and initially had not realised she had been shot.
She told the jury: "It was only when PC Whiteley was on the police radio telling the control room what happened, that he used words like 'shots fired, officer down', at which point I obviously heard that and thought I must have been shot.
"That was the first point I had some sort of understanding of what had happened."
Giving evidence, Leslie, a schizophrenic, repeatedly denied he had any reason to shoot the officer and said he did not mean to discharge the weapon.
He said: "I'm not a nut job who's just going to shoot down police for no reason".
Leslie told the court he had not taken his medication that day and did not know it was police at the door, and that he brandished the weapon to scare whoever it was off.
West Yorkshire Police began a manhunt for Leslie and he was arrested later at a Subway sandwich shop.
He had denied attempting to murder PC Hudson and an alternative charge of causing her grievous bodily harm with intent.
Leslie also denied possessing a shotgun with intent to endanger life but was also convicted of that offence.
He will be sentenced on October 2.