Bradford man jailed over fatal hammer attack on wife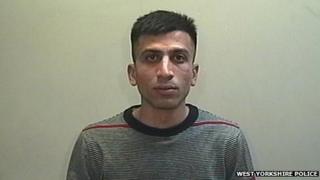 A man has been jailed for life for murdering his wife in a "terrible and brutal" hammer attack after discovering she was having an affair.
Danish Irfan, 22, was found guilty of killing 21-year-old Ridda Zanab after a trial at Bradford Crown Court.
Ms Zanab's body was discovered at a house in Alford Terrace, Bradford, on 4 November. She had been hit on the head with a hammer at least 10 times.
Irfan, of the same address, was jailed for a minimum of 16 years.
Irfan attacked Ms Zanab while she lay in bed after he discovered a text message she had sent to another man in which she said she loved him.
After the attack he fled to Pakistan but returned voluntarily to the UK in February and was arrested at Manchester airport.
In sentencing, judge Mr Justice Stuart-Smith, said: "This was a sustained and brutal attack over a number of minutes upon a woman who was lying defenceless in her bed.
"There can be no possible doubt that the trigger for what happened was your looking at her phone, seeing a smiley face and then finding in her outbox the text to another man saying that she loved him."
Det Supt Mark Ridley said: "Irfan brutally murdered his wife in the family home in Bradford and then fled to Pakistan in a bid to evade capture.
"Following work with the international authorities, we were able to secure his voluntary return to the country to face justice.
"Our sympathies remain with Ridda's family and especially her young daughter, who will sadly grow up without her mother."