Baby Jensen Wood mauled by 'bull terrier' dog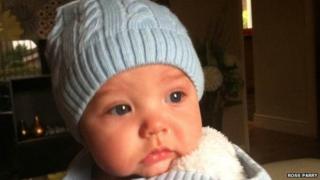 A 14-month-old boy was seriously injured when his face was mauled by a "bull terrier-type" dog in Huddersfield.
Jensen Wood was attacked by the animal at a relative's home in Thorpe Pyn Croft, Dalton, on Sunday.
He was taken to Leeds General Infirmary where he underwent surgery for a fractured jaw and facial lacerations.
The dog has been seized and may be destroyed. West Yorkshire Police said no-one had been arrested.
Det Insp Andy Leonard said: "Enquiries are ongoing into the circumstances of the incident and to determine the breed of the dog involved.
"The victim remains in hospital where he continues to be treated for serious but not life-threatening facial injuries."
Detectives believe the animal may have become violent because of the hot weather.