Child, 8, 'critical' after Tinker Bridge waterfall rescue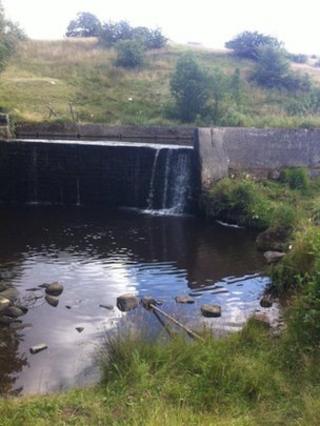 An eight-year-old boy is in a critical condition after he was pulled from the water at a beauty spot in Keighley, West Yorkshire.
The child was rescued by crews from the emergency services and members of the public, at about midday on Sunday at the Tinker Bridge waterfall.
He was playing with older children and was believed to have hit his head as he entered the water, police said.
The boy was airlifted to Leeds General Infirmary following the incident.
A human chain of emergency workers and members of the public was formed to search for the boy in the water, West Yorkshire Fire Service said.
It is believed the boy struck his head on an object as he fell into the water, causing him to suffer a serious head injury, West Yorkshire Police added.
Insp Sue Sanderson said: "On a hot summer's day, open water like streams, rivers and canals can look inviting.
"But these waterways are not swimming pools... and there can be hidden currents which can catch out even an experienced swimmer.
"Please stay safe and stay out of the water."