James Leslie trial: Man had 'no reason' to shoot officer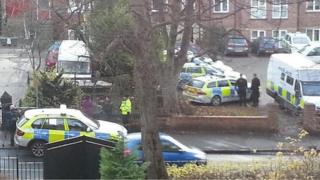 A man accused of attempting to murder a police officer has told a jury he "had no grievance with the police".
James Leslie, 33, is alleged to have shot and seriously injured PC Suzanne Hudson when she and PC Richard Whiteley called at his house in Leeds on 4 December.
He told Leeds Crown Court he did not know how the gun had gone off.
Mr Leslie, of Queenswood Drive, Leeds, denies attempted murder and possessing a shotgun with intent to endanger life.
The two officers were responding to a routine call when 33-year-old PC Hudson, originally from Lancashire, was shot in Cardigan Road, Headingley, and injured in her face, neck and hand.
Prosecutors allege Mr Leslie fired a sawn-off shotgun through the door of the house before cycling away from the property.
However, Mr Leslie told jurors: "I'm not a nut job who's just going to shoot down police for no reason.
"They're doing a hard job. They're doing a good job. They've done nothing wrong to me."
Mr Leslie claimed he found the gun in his flat and was intending to brandish it at some people outside that he feared were going to attack him.
He said he did not know it was the police at the door and had not taken his medication that night for his schizophrenia.
"It happened so fast I can't explain," the defendant said. "I don't even know how the gun went off."
He said he originally thought it went off when he hit it against a work surface in the kitchen but now accepts that this was an impossibility.
He told the court the weapon might have been fired by the drawstring of a shower bag that got caught around it.
Mr Leslie has admitted possessing a prohibited weapon and causing criminal damage.
The trial continues.