Governors of Bradford Carlton Bolling College removed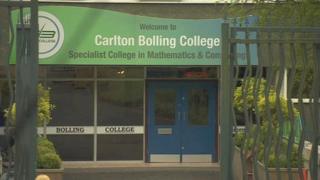 Bradford Council has sacked the board of governors at a school inspectors said was failing to protect students from extremism.
An Ofsted report, now released to the public, said Carlton Bolling College was "inadequate".
The Department for Education said the council could replace the governors with an Interim Executive Board (IEB).
The council said it was the "right decision for the children and young people of Carlton Bolling".
But the authority's strategic director of children's services, Michael Jameson, said there was "no evidence of Islamic extremism being introduced into Carlton Bolling College or any other local authority school in Bradford".
'Obstacle to improvement'
Ofsted's report, seen by the BBC earlier this week, said: "The college does not protect students from the possible risks posed by extremism well enough."
Inspectors said the governing body was "an obstacle to improvement, rather than a champion of it" and made decisions that "accommodate the needs of Muslim students well, but do not take sufficient account of other faiths".
The chair of the governors, Faisal Khan, was singled out for shouting "aggressively in response to the expression of views contrary to his own" in meetings.
Mr Khan was also sacked as governor of Laisterdyke Business and Enterprise College in Bradford in April after an Ofsted inspection said governors there were "increasingly undermining the capacity of senior leaders".
Mr Khan has rejected Ofsted's findings, describing them as "completely false".
Mr Jameson said: "Bradford Council has been in discussion with the Department for Education for some time due to concerns that the leadership of the governing body... was impeding the progress of the school in providing a good education for its pupils.
"The IEB's role is to make sure the school makes rapid improvements for the benefit of all pupils and to provide effective support and challenge to Carlton Bolling's senior management team."