James Leslie trial: Shots rang out 'like a war movie'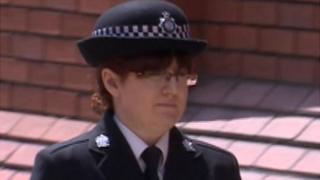 A police officer said the noise in the moments after she was shot in the hand and neck rang out "like a war movie".
PC Suzanne Hudson, 33, was on a routine call when she was shot in Cardigan Road, Headingley, Leeds, on 4 December.
James Leslie, 33, of Queenswood Drive, Leeds, denies the attempted murder of PC Hudson and PC Richard Whitley.
At his trial, PC Hudson told Leeds Crown Court she only realised she had been hit when her colleague radioed: "Shots fired, officer down."
"It was eerily silent, all I could hear was a ringing in my head," she said.
"It was possibly similar to if you watch a war movie and explosions go off and there's a long tone in your head."
PC Hudson, originally from Nelson in Lancashire, was on her sixth shift as a frontline officer when she knocked on Mr Leslie's flat at 04:15 GMT.
The court heard she called out "It's the police" and a voice inside replied "police, police" in a gangster style.
'Fingers splayed'
She told the jury a moment later she "spun round", but did not realise she had been shot through the door.
PC Whitley, who had been behind his colleague, moved her to the roadside where she collapsed.
"I remember thinking that something bad had happened, not being able to quite comprehend," said PC Hudson.
She said she didn't realise how badly she had been hurt until she looked at her right hand, which was badly injured by pellets from a sawn-off shotgun.
"My fingers were splayed, my middle finger was at a 90 degree angle and there were pools of blood through my hand," she said.
"I felt like I was fading out. I couldn't move properly. I don't believe I lost any consciousness but I was very disorientated.
"It happened so quickly."
PC Hudson needed emergency surgery on arteries in her neck.
She showed the extent of her injuries to the jury, demonstrating how her hand had been left disfigured and where she was hit in the neck.
The trial continues.