James Leslie trial: Shot officer wanted 'frontline role'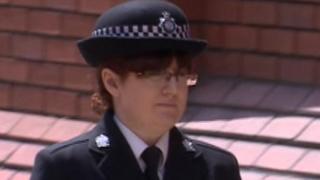 A police officer shot and injured on a routine call said she had wanted a "frontline" role in the force.
PC Suzanne Hudson, 33, was giving evidence in the trial of the man accused of shooting her in Leeds on 4 December.
James Leslie, 33, denies the attempted murder of PC Hudson and her colleague PC Richard Whitley.
PC Hudson told Leeds Crown Court she was only on her sixth shift as a frontline officer when she was shot.
Prosecutor, Richard Wright QC, has already told the court Mr Leslie, of Queenswood Drive, Headingley, fired a sawn-off shotgun through the door of the house before cycling away from the property.
In evidence, PC Hudson, who is originally from Lancashire, said she had become a police community support officer in 2008 before becoming a regular officer in 2010.
She transferred to a response unit in 2013 after working as part of a neighbourhood policing team.
"It's what most people join the job for," she told the court.
"I wanted to gain experience and it's a different kind of policing. That was my sixth shift as a response officer."
The jury has been told the two officers had been investigating an allegation of minor criminal damage when they called at the house on Cardigan Road, Headingley.
She is expected to continue to give evidence on Friday when the trial continues.