Jimmy Savile: Leeds Teaching Hospitals NHS Trust spends £1m on inquiry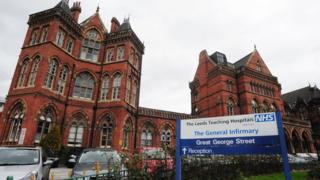 An investigation into allegations that Jimmy Savile preyed on children in hospital wards across Leeds cost more than £1m, it has been revealed.
A report found 60 patients and staff aged five to 75 years old had been abused by the BBC presenter at Leeds General Infirmary (LGI) over 50 years.
It was the culmination of an 18-month investigation commissioned by Leeds Teaching Hospitals NHS Trust.
The trust said the inquiry was "robust" and "thorough".
A spokesman said: "The amount spent reflects the significant task the investigation team faced and the need to have a credible and experienced team in place."
'Blighted lives'
The figures came to light following an inquiry by BBC Look North to the trust.
The bulk of the cost was spent on staffing and legal fees.
Fabian Hamilton, MP for North East Leeds, said diverting funds from healthcare to the Savile inquiry was "appalling" but necessary to find the truth.
He added: "It's a tragedy that money for healthcare and patients should have to go on a report like this, but if you need to find the truth, it has to be paid for.
"The said thing is that Savile is mocking us from beyond the grave. He has already blighted enough lives and now he's blighting further lives by taking £1m for this inquiry from patients.
"I only wish that he was even richer than he was and we could get it out of his estate."
The investigation required the location and analysis of more than 1,300 documents as well as tracing and interviewing more than 200 witnesses.
Of the 60 alleged victims, 33 were patients, of whom 19 were children. A further 19 were staff.
Most of the incidents happened at LGI but some occurred at St James' Hospital.
Encounters ranged from lewd remarks and inappropriate touching to sexual assault and rape.