Fourteen children's centres across Wakefield face axe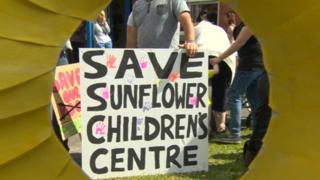 Fourteen children's centres are facing the axe as Wakefield Council looks to slash £185m from its budget.
The authority announced earlier it would hold a three month consultation period into the future of the sites.
A report to cabinet said closing the centres would offer a more "flexible and accessible service" by creating hubs in central locations.
But parents say the centres are a lifeline, particularly in deprived areas.
Caroline Vyse, from the parent's forum at Sunflowers Children's Centre in South Elmsall, said: "We really need the children's centres in areas such as this, they give [children] a good foundation in reading and writing and listening, and gives them a good basis for when they start school."
The consultation comes as the council looks to save £2.5m from the children's centre budget and £185m by 2020.
Plans include closing smaller centres and moving them to main sites across the district, offering a range of services.
Councillor Olivia Rowley said: "We understand that cuts to budgets are unpopular but we have no choice.
"No decision has yet been made on children's centres and we have already seen the strength of feeling people have for them.
"Although the proposal is to stop operating some children's centres, it is not a proposal to stop offering the services they provide."
The consultation period will start on 15 July.