Extra funds for West Yorkshire transport projects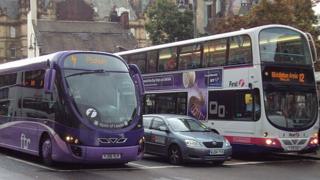 Extra power and funds have been given to councils in West Yorkshire for new rail and road projects in the area.
The West Yorkshire Plus Transport Fund will receive £180m over six years and a further £420m from 2021 as part of a 20-year deal.
The money is in addition to a £573m local growth fund grant for the Leeds City Region.
The transport fund will be administered by the West Yorkshire Combined Authority.
In a joint statement, councillor Keith Wakefield, leader of Leeds City Council, and councillor Peter Box, chair of the West Yorkshire Combined Authority, said they had been "lobbying hard" for the funds "for a very long time".
'Historic' deal
It added: "We are glad that the government has now listened to our exceptionally strong case to put the financial power in our hands to drive our ambitions in a way that could be truly transformational for local growth."
The combined authority has not said where it intends to invest the money but said it wanted to prioritise cutting congestion and making it easier for people to commute between key cities.
The government said it expected the Highways Agency, Network Rail and the Department of Transport to work closely with the local enterprise partnership and the combined authority on delivering improvements.
The Leeds City Region Local Enterprise Partnership (LEP), said the deal was "historic".
It said a total of £73m had been allocated for projects beginning in April 2015, including housing and development sites in Bradford, Leeds, Wakefield and Halifax.