Angel Pitts' funeral held at Cottingley cemetery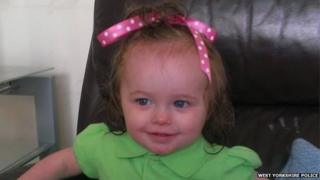 The funeral for a 16-month-old girl who died after being hit by a car thought to have been driven by her father has taken place.
Angel Pitts died on Cromwell Mount, Belle Isle, Leeds on Saturday, 14 June.
Her parents, Megin and Scott, said in a statement: "This was a tragic accident that her father did not see coming and could have never imagined."
The family took their "last walk" with Angel to a service at Cottingley cemetery at 14:00 BST.
Mourners were asked to wear animal onesies or bright colours.
Donations at the service will go to the Sweet Dreams charity which provides memory boxes for parents after the death of a child, the family said.