Knifepoint sex attack by gang on Huddersfield wasteland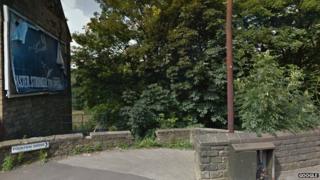 A man was subjected to a serious sexual assault at knifepoint by a gang of men on wasteland in Huddersfield, police have said.
The 27-year-old victim said he was threatened by three Asian men with a knife, before being attacked on land off Fountain Grove in Milnsbridge.
West Yorkshire Police have only just released details of the attack on 21 June.
The force said the assault was not thought to be random.
The attackers are believed to have left the scene in a black Volkswagen Golf vehicle with blacked out windows.
All three men are described as aged between 20-25 years.
The first suspect was believed to be around 6ft tall with a heavy muscular build.
He was clean shaven with short black hair and was wearing a white t-shirt, blue chinos and possibly Nike Trainers.
The second suspect was the same height and build with short black hair.
The third suspect was 5ft 8" tall, similar build and had a shaved or bald head. He was wearing a long-sleeved black shirt.
Det Insp Ian Thrones, of Huddersfield CID, said: "At this stage we do not believe this was a random incident."