Sajid Raza re-arrested in Bradford academy fraud inquiry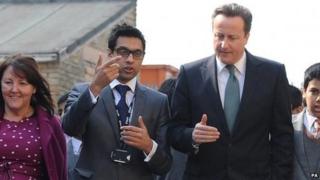 The head teacher of a flagship free school has been re-arrested and bailed by police investigating suspected fraud offences.
Sajid Raza, 41, was previously arrested in January by police investigating the Kings Science Academy in Bradford.
It came after "serious failings" with the school's financial management were found during an investigation.
West Yorkshire Police said a 41-year-old man had answered his bail and was arrested over "further allegations".
The BBC understands the man to be Mr Raza.
The academy, one of England's first free schools, opened in September 2011 and was praised by Prime Minister David Cameron when he visited it in March 2012.
The Department for Education investigated the school after a whistleblower made allegations about its governance, and found nearly £80,000 of public money had not been used for "its intended purpose".
West Yorkshire Police said: "A 41-year-old man arrested on suspicion of fraud offences answered his bail and was arrested in relation to further allegations of fraud. He has been bailed pending further inquiries.
"All aspects of the school finances and governance that relate to these potential offences and allegations are being thoroughly investigated."