Cycling champion Beryl Burton to get civic honour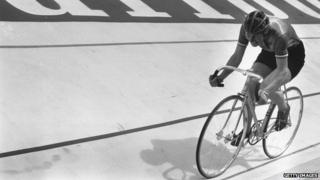 The freedom of the city of Leeds is set to be posthumously awarded to former cycling world champion Beryl Burton.
Mrs Burton, from Morley, won seven world titles and set numerous records, including one for cycling more than 277 miles (446 km) more than 12 hours in 1967.
She was appointed MBE in 1964 and OBE in 1968. She died aged 58 in 1996.
Leeds City Council is set to approve plans to award her the city's highest civic honour at a meeting on 2 July.
Councillor Keith Wakefield, leader of Leeds City Council said: "To put it simply, Beryl Burton was the best British female cyclist of all time and undoubtedly one of the greatest, if not the greatest sport person, ever to come out of Leeds.
"As a city we should not only be immensely proud, but also make sure that her vast achievements are never forgotten."
If approved by councillors next month, Mrs Burton will formally be given the honour at a special meeting of the council in September.
Her name will then be added to the Freedom of the City board in Leeds Civic Hall.