Tingley man Richard Dickenson admits arson over bungalow blast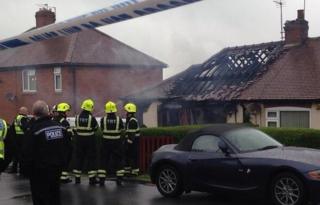 A man who was injured in a gas explosion at his home near Leeds has admitted arson.
Richard Dickenson, 45, of The Crescent, Tingley, started a fire which led to the blast at the bungalow on 28 May.
Dickenson escaped, but was taken to hospital suffering from burns and smoke inhalation. Six properties were evacuated but no-one else was injured.
He appeared at Leeds Crown Court by video link and will be sentenced on 30 July.