Emma Bennett attack: Man 'used dogs to threaten pair'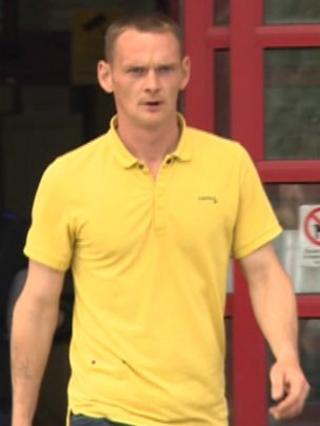 A man whose pregnant partner was killed by his two pit bull-type dogs had previously used one of the animals to threaten social workers, a court heard.
Mother-of-four Emma Bennett, 27, died after she was attacked by the dogs at her home in Leeds on 9 December.
Lee Horner, 34, admitted owning the dogs at Leeds Magistrates' Court. He will be sentenced on 3 July.
The court heard he threatened to set one of the dogs on two female social workers just months before the death.
Vincent O'Malley, prosecuting, said Horner told one woman "shut it or I'll set the dog on you."
Horner, of Helston Green, Leeds, had told the second social worker, who was eight months pregnant at the time: "What you looking at? Wait until I get the dog and see if you continue looking at me like that," Mr O'Malley said.
'Blood on their snouts'
The court heard Horner had been out when police were called to the house he shared with Miss Bennett in Dawlish Avenue in December after neighbours reported hearing what they thought was an argument.
Mr O'Malley said Miss Bennett was heard shouting "no, no, no."
When officers went inside, they were met by the two dogs, named Bella and Dollar.
He said: "Both had blood on their snouts and appeared excited.
"They noticed drops of blood in the doorway and on the carpet and went into the living room. There, they saw Emma Bennett lying motionless on the floor. Her legs were on the sofa.
"She had extensive injuries, particularly around her facial area and her head."
Miss Bennett was taken to hospital but died two days later.
Deputy District Judge Tim Spruce adjourned sentencing to allow a pre-sentence report to be prepared.
However, after hearing from defence counsel Narinder Rathour how the death of his partner has affected the defendant, Mr Spruce said he had already ruled out a prison sentence.