Leeds Market traders hit by car park closure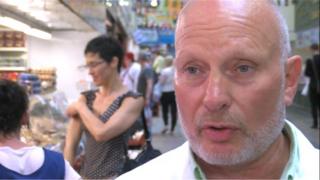 Market traders in Leeds have claimed their takings have fallen by about 40% since April due to the closure of a nearby car park.
In a BBC survey, 143 of 160 stallholders at Kirkgate market said they had seen a significant drop since April.
The Union Street car park closed on 5 April to make way for the £150m Victoria Gate retail development.
Leeds City Council said it was working to deliver new parking for the market.
'Very bleak'
Rob Depledge, who runs a delicatessen, claimed in one week he had lost more than £2,000.
"Trade at the moment is absolute rock bottom," he said.
"It is very very bleak and if it continues I won't be able to continue after Christmas."
Stallholders who responded to the BBC survey were asked if they had seen a significant change in turnover and what percentage it had fallen or risen by?
Alternative parking
They were also asked what they thought the cause of any change was - 90% blamed the closure of Union Street car park.
The council-owned car park's closure represents a loss of around a third of the available parking spaces in the market area.
Nabni Singh, who runs Phone Empire in the market, said: "All the other car parks are very expensive so this was the one most used by our customers."
The Victoria Gate development will have a John Lewis store along with 30 other shops and an 800-space multi-storey car park but it will not be completed until 2016.
Leeds City Council acknowledged the development would have a short-term impact but said it was working with traders to provide alternative parking and travel options.
It also said it was planning a £12m refurbishment of the market.