Tour de France: Extra £100,000 earmarked for Holme Moss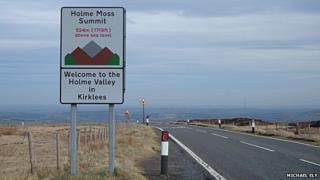 Organisers of the Tour de France have earmarked an extra £100,000 to cope with the number of spectators expected at a key point on the Yorkshire route.
It comes after the TdFHub2014 group released a report on Thursday saying preparations are on track for the event on 5 and 6 July.
About 60,000 people are expected at Holme Moss which is one of the most challenging sections of the two days.
The hub said the extra money would be used to manage the crowds.
A spokesman for the organisers declined to confirm the total amount due to be spent on the Holme Moss facilities.
He said: "The survey work we have been carrying out since January has consistently shown that it [Holme Moss] is going to be one of the most popular viewing areas along the route.
"So, in order to help ensure the crowds have a safe and enjoyable time, additional resource has been allocated to manage the numbers of people likely to be there."
'Something special'
Spectators are advised that remote areas like Holme Moss, a moor rising to 1,719ft (524m), are likely to involve significant cycling or walking from the nearest car park.
The nearest spectator hub, with family facilities and a big screen, is at Sands Recreation Grounds in Holmfirth.
Meanwhile, the report said more than 300 miles (482km) of road closures were in place, as well as 62 miles (100km) of barriers and fencing, 30,000 traffic cones, 5,000 road signs and 43 miles (70km) of event bunting.
Chairman of the hub, Sir Rodney Walker, said: "I am delighted to be able to say all of the plans are now in place and being refined and tested to deliver something special - an event which will be enjoyed by millions of people at the roadside and will showcase the very best of the UK to a massive global audience."