Embrace and Kimberley Walsh to lead Grand Depart arena ceremony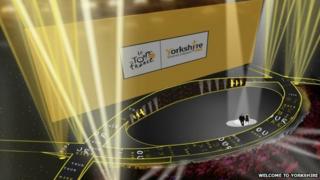 Yorkshire band Embrace will headline the opening ceremony for the Tour de France Grand Depart in Leeds on 3 July.
Organisers said Girls Aloud singer Kimberley Walsh will join York singer and songwriter Alistair Griffin on stage at the event.
The Tour's Grand Depart takes place in Yorkshire on 5 and 6 July before the race moves to Cambridge and London.
The event is being produced by Martin Green who was Head of Ceremonies at the London 2012 Olympics.
Tickets for the event have been priced at a starting point of £45.
Defending champion Chris Froome and sprinter Mark Cavendish are expected to be cycling stars to greet the crowd at the arena as the county welcomes 22 of the world's best cycling teams in the ceremony.
'Night to remember'
The Brighouse band Embrace saw their latest album go straight into the national album chart at number five.
They also have three number one albums, six top-ten singles and over two million UK album sales behind them.
Ms Walsh, known for her role in the multi-platinum selling group Girls Aloud, said: "It is going to be a night to remember and one where we make history together, giving the Tour de France a true Yorkshire welcome."
To celebrate the collaboration between Yorkshire and France, French singer Pauline Vassuer will sing her hit "Allo le Monde".
The orchestra and chorus of Opera North will perform music specially created for the event live throughout the ceremony, conducted by composer Philip Sheppard, who composed music for London 2012.
More than 5,000 Tour de France volunteers had attended an organisational event at the arena in May.
The roles of the volunteer Tour Makers will be similar to those of the Games Makers at the London Olympics.