Afusat Saliu and children deported to Nigeria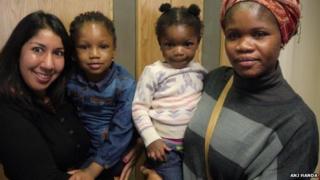 A woman living in Leeds who fought to stay in the UK over fears her daughters could face female genital mutilation in Nigeria, has been deported.
Afusat Saliu, 31 and daughters Bassy, four and Rashidat, two, were "removed to their country of origin" on Wednesday, the Home Office said.
Her lawyer Bhumika Parmar said she had spoken to Ms Saliu in Nigeria, who was "really upset at the situation".
The Home Office said the case had "gone through the proper legal process".
Ms Saliu fled from Nigeria in 2011, claiming her stepmother had threatened to subject Bassy to female genital mutilation (FGM).
Ms Saliu, herself a victim of FGM, was pregnant at the time.
'Individual merits'
The UK Border Agency arrested Ms Saliu and her daughters on 28 May.
Ms Parmar said she would continue to fight her case and that permission had been granted for a judicial review.
In a statement, the Home Office said: "We consider every claim for asylum on its individual merits and in this case, the claimant was not considered to be in need of protection.
"The case has gone through the proper legal process and our decision has been supported by the UK courts on five separate occasions, while the European Court of Human Rights declined an application to halt the removal."
The family was held held in a detention centre before the deportation. A previous removal order on 30 May was delayed by the Home Office.
More than 120,000 people have signed a petition calling on the Home Office reconsider the case.