Leeds city centre longer pedestrian hours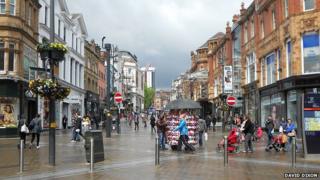 A ban on delivery vehicles in Leeds city centre's pedestrianised area is to be extended to make the streets safer, Leeds City Council has announced.
A two-and-a-half-hour extension would stretch it from 10:30 until 19:00 hrs.
Main shopping streets, including Briggate, Commercial Street and Lands Lane. will be affected.
Councillor Richard Lewis said: "Our hope is that these changes will lead to higher footfall in the evenings... and a boost to the local economy."
The current city centre ban expires at 16:30 hrs but there could be up to 20,000 people in the pedestrian area at that time, the council said.
A council report said there were "clear safety benefits" of pedestrianisation and the extension in hours would improve accident figures.
Mr Lewis, a member of the council's executive, said: "The British Retail Consortium reported a drop in national city centre footfall late last year, but Leeds city centre bucked that trend with a very strong Christmas.
"We have also seen more shoppers coming into Leeds in the evening after work."
The change will also include Albion Place, Albion Street, Bond Street, King Edward Street, Kirkgate, Swan Street, King Charles Street, the council said, and will come into force on 30 June.
A council report said implementing the change would cost about £15,000.