Tingley gas explosion suspect remains in hospital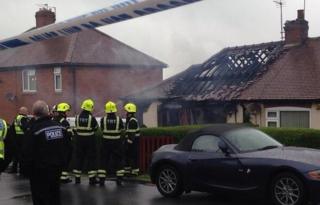 A man arrested on suspicion of arson following a gas explosion at a bungalow in West Yorkshire remains in hospital.
Police said the 45-year-old is continuing to receive treatment but his injuries were not life-threatening.
He suffered burns and the effects of inhaling smoke after the explosion at the property on The Crescent, Tingley, at around 09:30 BST on Tuesday.
No-one else was injured but six neighbouring homes had to be evacuated as a precaution.
Supt Mabs Hussain, from West Yorkshire Police, thanked the community for its patience.
"This understandably caused a great deal of shock and upset but I would like to reassure people that we have arrested a local 45-year-old man and are not seeking anyone else in connection with the incident," he said.