Labour takes control of Bradford Council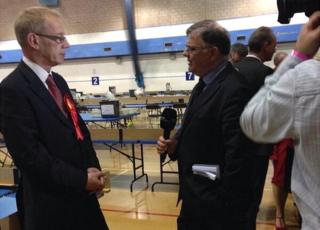 Labour has taken control of Bradford Council for the first time in 15 years.
The news comes after UKIP won its first two seats on Labour-led Wakefield Council and another in Bradford.
Labour failed to take control of Calderdale Council by one seat while it remained in firm control in Leeds, losing only two seats.
No party gained overall control of Kirklees Council - which has not had a ruling group since 1998, when Labour was in charge.
The two seats taken by Labour in Bradford gave them overall control - by just one seat - while they lost a seat to UKIP in the Keighley West ward.
Council leader Dave Green, said: "I'm delighted that all the hard work that's gone in, not just to the election campaign, but over the last four years since we've been in administration in Bradford, has paid off.
"We've seen off a real threat from UKIP and from Respect."
In control
In Wakefield, two UKIP candidates took Ossett and the Wrenthorpe and Outwood wards from the Conservatives.
But Labour remains firmly in control with 54 of the authority's 63 councillors.
The Conservatives lost five seats - two to UKIP and two to Labour, while an independent took one seat.
In Leeds, Labour retained control and lost one seat to the Greens but gained another from the Liberal Democrats.
Labour gained four seats in Calderdale to become the largest party with 25 councillors, but needed one more win to take control of the 51-seat council.
In Kirklees, of the 23 seats up for election - one third of the total number of council seats - no party gained or lost seats.