Ai Weiwei show in Yorkshire Sculpture Park's former chapel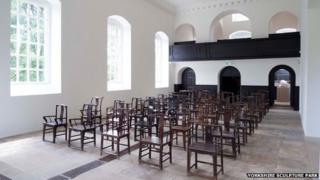 An exhibition of work by Chinese artist Ai Weiwei has opened in a newly renovated former chapel.
He has sent 45 antique Chinese chairs that have been laid out in the 18th Century chapel at Yorkshire Sculpture Park, near Wakefield.
The chairs are to be shown alongside three of the artist's sculptures.
It will be Ai's first exhibition in a public British gallery since he filled Tate Modern's turbine hall with porcelain sunflower seeds in 2010.
The exhibition has reopened the former chapel after a £500,000 refurbishment.
Ai has not travelled to the sculpture park for the exhibition. A strident opponent of the Chinese state, his passport has been confiscated and his travel strictly limited.
It was his involvement in the design of Beijing's Olympic stadium that brought him international prominence, he helped design the Bird's Nest structure now recognised around the world.
The wooden chairs are part of his Fairytale-1001 Chairs series and date from the Qing Dynasty, which lasted from 1644 to 1911/12. Visitors will be invited to "take a seat and consider freedom, refuge, sanctuary and their antonyms".
A 20ft (6m) Iron Tree sculpture will also be on show, as will his porcelain sculpture Ruyi and the marble Lantern.
The chapel was built in 1744 by Sir William Wentworth who owned Bretton Hall and the estate the Georgian sandstone chapel served.
The sculpture park, the first of its kind in the UK and the biggest in Europe, opened in 1977.
It covers 500 acres of the old estate and attracts about 300,000 visitors a year.