Leeds riders in protest over city cycle safety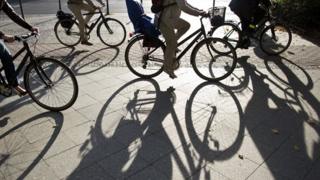 Dozens of cyclists have taken to the streets in Leeds as part of a campaign to improve cycle safety in the city.
The event, organised by the Leeds Cycling Campaign group, is calling for the council to make the city more cycle friendly.
Lizzie Reather from the group said the authority needed to show "recognition that things do need to change".
Labour councillor Roger Harington, Leeds City Council's cycling spokesman, said improvements were being made.
Figures from the 2011 Census, showed 1.1% of adults in Leeds then commuted to work by bike, compared to 2.3% in Manchester and 3.3% in Liverpool.
Ms Reather said the council needed to consider cyclists more when planning new road schemes.
"I think they are saying all the right things," she said.
"They're saying that they're committed to cycling but I think what they have to recognise that the last 30 years of inaction, of making the roads actively worse for cycling, has been partly their fault."
Last year, the council announced a £29m "cycle superhighway" connecting Leeds and Bradford.
'Huge interest'
The city will also host the start of the Tour de France this summer.
Mr Harington acknowledged that while improvements were being made there "was a huge amount still to do".
"We've now got a whole lot of money to make a difference," he said.
"We are in an unprecedented position as far as cycling is concerned because obviously there is huge interest with the Tour [de France] with the success of British cyclists.
"But the worst case scenario is that people watch the Tour, [think] cycling is great fun, but then think I am not going to do it in Leeds because it's not safe."
He said the council was also working on improving road junctions and legalising cycling in parks.